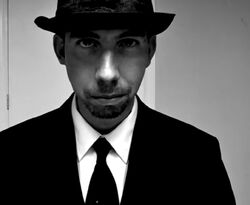 Occupation
Time-traveller
"Oh, I'm old ... very old. Some say as old as time, I personally wouldn't know, I've lost count of how many years I've lived ... and how many years I've died. Eurybus; me, and you are one, and the same. Observers. Wanderers. "
—The Wanderer
The Wanderer was once a Gallifreyan and high ranking cultist who dedicated the entirety of his life to worshipping the ancient gallifreyan entity Sephorus, after the war that decimated his entire species The Wanderer was selected to act as Sephorus' host on the earthly plane. After the defeat of Sephorus, The Wanderer was separated from his God, but maintained a lot of his reality manipulating abilities and sought revenge on The Time Lord Alliance beginning to do so with resurrection of Eurybus Valinus.
Biography
Abilities and powers
The Wanderer's powers are supposedly limitless, he knows of the incidents that occurred in the realm of Deroth implying that he is all-knowing, he is capable of transforming the biology of an individual, and has shown that he is capable of transporting himself, and other people over long distances. He is also capable of time-travel.
Trivia