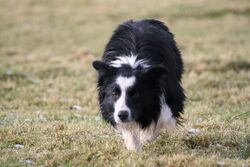 Species
Dog (Border Collie)

Voodoo was a border collie whose biology was enhanced due to a strange mutation that occurred during his travels with the Gallifreyan, Ramasus Ei Valinus, for whom he provided companionship whilst employed by Manhiel to act under the mantle of The Outlaw.
Voodoo was tragically killed during a confrontation between Manhiel and Ramasus' fellow friend The Learner. Ramasus grieved the loyal companion and gave him a proper burial within the latters now-defunct TARDIS where he was left to drift eternally through The Time Vortex.
Voodoo later met up with the spirit of Ramasus in the realm of Purgatory where the two happily played a game of fetch.